CAMPUS LIFE


The Placement Cell
The Placement cell facilitates the process of placement of students passing out from our college in various prestigious organizations. The goal is to achieve 100% placement. To provide employability skills to all the students and to plan and implement Integrated Personality Development Programme right from 1st Year onwards. The cell acts as an interface between the industry and the students, and primarily enables the students to select from their career options. The college placement cell is dedicated in liasoning with companies of repute. The cell provided placement assistance, counseling for employment and self/social enterpreneaurship to students and also assures logistic support to the visiting companies at every stage of the placement process by making college infrastructure available to them.
In previous years more than 38 companies have been visited the campus for holding campus interviews of which some are Ind-swifts Labs Ltd., Mohali. Kandhari Beverages Pvt Ltd, Navipur Punjab, E-resources, New Delhi; Life Cell international Pvt Ltd, Maneshar Haryana, Panacea Biotech Baddi HP, Nectar Life Science Ltd, Derabassi. Ranbaxy, Ropar Punjab and Punjab Agroventure, Sirhind. Further details can be retrieve from the college website www.dolphinlifesciences.com/placements
Training Department
Training Cell of the college offers comprehensive & in depth practical hands on training, which enables the participants to master the skills to work and excel in their sphere of activity in biotech & allied industries. Dolphin college offers the flexibility to address the needs of science related Industries, bridging the gap between theoretical knowledge and its practical skills. Short as well as long term training and workshop in the field of life science. Campus has facilities for carrying out research in life science. Major equipment and facilities available in the college are; HPLC, Lab Scale 3L Fermenter, Thermo cycler, Gel Imaging System, UV VIS Spectrophotometer, Elisa Plate reader, Electrophoresis Unit (DNA & Protein), High speed cooling centrifuge, Tissue culture Laboratory etc. Further information regarding the training modules can be accessed from the college website.
National Service Scheme
The college offers opportunity to the students for personality development and self growth through N. S. S. It inculcates the spirit of voluntary work among students and teachers through sustained community interaction, The N. S. S. unit of the college has been very active from last 8 years in serving the society. Through guidance of dedicated teachers and enthusiastically working student volunteers, N.S.S. has achieved the objective of Personality Development through community service. Various programes of NSS include Blood Donation camps, Environmental Awareness Projects, Literacy Programes for under privileged children and Swach Bharat Abhiyan. The unit has initiated the process of creating awareness towards literacy and distribution of reading & writing materials. Health check-up camps are regularly done and they are assisted for any further medical requirements. Recently, the N.S.S. unit has organized relief camp for J&K natural calamity victims.
Hostel Facility
At Dolphin College there are separate accommodation for boys and girls, which varies from double occupancy to four in a room. There are one residential hostel for boys and two residential Hostels for girls. There are 150 seats in hostel for boys and 150 for girls. The entire hostel complexes ensured with 24-hour security, maintenance, power & water supply. The hostel provides a Bed, a mattress, a study table, a chair and a cupboard for each student. Every hostel has solar heated water facility, water cooler, common telephone, common TV room, common reading room etc. The Wi-Fi internet facility is available to students. First Aid Medicines are kept ready in the hostel. Adequate dining facilities are available for all students. Mess caters variety of food to suit all tastes.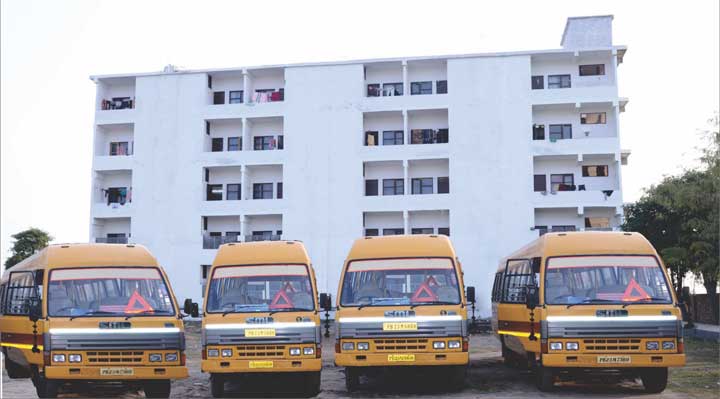 Addmission Cell
The college admission cell provides all facilities under one roof to the students and parents with regard to admissions. The "ONE-to-ONE" helpline is always available for students regarding admission enquiries. Interested students for admissions can also approach via email (dolphinadmission@gmail.com) /sms/social media (whatsapp, facebook, twitter). The quick enquiries can be made on college website, for this the form is available on website home page. Apart from offline, college also offers admissions through online mode. The students also get counseling services during admissions. College website www.dolphinlifesciences.com/admissions link may be retrieve for further details.
Transport Department
College runs a fleet of buses for linking the college campus to various cities like, Chandigarh, Panchkula, Mohali, Kharar, Landran, Ropar, Kurali, Morinda, Bassi Pathana, Patiala, Sirhind & Rajpura. College buses are available to the students and faculty members for commuting from various points in the city to the college.
Drug De-Addiction Cell
The De-addiction Center of the college was established with the aim of providing counseling to individuals abusing alcohol, tobacco, and other drugs. The objective of the cell is to have "better coordination and synergy in the initiatives aimed at eradicating the blot of drug addiction from the state.
Library
The Dolphin college library collection is about 6000 Volumes. The library amazingly rich collection contains Abstracts, Textbooks, Dissertations, Encyclopedias and General books. The library is also subscribing for 50+ Scientific journals, 20+ general magazines. The leading 10 daily newspapers are also available for students. Library & Information Centre provides uncompromising information and intellectual requirements to its students and faculty with an user-friendly approach. It offers a fully integrated and dynamic environment for conducting academic study. Multiple copies ensure that resources are easily available in reference section and sock section as well. Beside this, it provides Lending of books and journal back volumes, reservation of books, photocopying, CD/DVD and Internet services, etc
Personality Development Programme (PDP)
Personality Development Programme (PDP) is aimed at increasing employability of the students. Some of the salient features of the program include: Functional grammar in Standard English, Speaking skills, Reasoning, Group Discussions, Interview skills, Personal Interviews, Quantitative ability, Verbal Ability, Mock Tests, and Special Sessions. The modules on group discussion and interview preparation would be really beneficial for those who wish to take up jobs soon after completing their degree.
Career Counselling Center
The Career Counseling Centre provides a friendly professional and confidential service to students. The centre is committed in addressing the academic and career development of students in a multicultural society. The centre aims to be a one point stop for all the educational guidance to every aspiring student. Students get assistance from some of the best counselors of the college to make correct decisions for their envisioned careers.
Medical Facility
In order to provide round the clock medical facilties to the students and staff and also to attend to unforeseen medical emergencies college possesses a full fledged medical dispensary in its campus under the supervision of well qualified and experienced Dr. KHAN M.B.B.S to deal with emergency cases, college transport is available round the clock to carry the patients for treatment at surrounding hospitals. First Aid Medicines are kept ready in the campus.
Facilation Center for Education Loan
Students at the time of admission or at the time of applying for educational loan are given loan letter or alike document as required by the concerned bank for loan purposes, as and if deem appropriate. For the convenience of students, the college has set up a separate Loan Assistance Cell, to cater all the needs like loan letter, loan application form and for any other justifiable assistance required from the college.
Anti Ragging Cell
College has constituted an anti Ragging Committee and taken several measures to make campus free from ragging. For prohibition of ragging in Campus / Hostel College follows the directions of Hon Supreme Court and District commissioner Fatehgarh Sahib as received time to time. An affidavit/undertaking is to be given by students admitted and parents to root out ragging in all its forms from the college campus.
Sports
Students are encouraged maximum in the field of sports and are facilitated with all required equipment to play the games of Football, Badminton, Volleyball, and Basketball. College organizes annual athletic meet each year in the month of February to encourage sports among students.
Canteen
College has spacious canteen facility in the college premises and is run by college management. Catering is done in hygienic conditions and food is cooked in steam facilities. a spacious and clean canteen that caters to the taste of all students. The canteen provides hot lunch, snacks and beverages both to the students and staff at reasonable rates. It is well maintained with efficient service and a take away counter. The canteen remains open on all working days. Beverages of different flavors are served on different days according to different seasons. Canteen remains open from 9:00 AM to 4:30 PM on all working days.