Being able to help someone learn something is a talent. Teachers put their hearts and souls into everything that they do.
Faculty Profile

Dear Aspirant and Parents,
Dolphin has ambitious plans to prepare students for global markets demands, nurture them and hone their skills for world's highest potential big business entrepreneurs. In this endeavor, Dolphin has state-of-the-art laboratories of sciences, plant tissue culture, animal cell culture and field infrastructures. We have developed the capacity to house one million export quality plants grown by tissue culture. A high-tech climate controlled greenhouse is well in place to train students in the latest growing technology at par with the global technologies of hydroponics, aeroponics and organic farming of exotic vegetable and fruits for domestic and international markets. There are many MoUs and collaborations in pipeline with leading industries and Universities of India and abroad for employments, technology transfer, high-end research, student exchange, setting up of entrepreneurship parks, high tech training, innovations and incubation of business ventures. I welcome you to join one of the most exciting citadels of learning.
Chair Persons

Er. Vibhav Mittal
Vice Chairman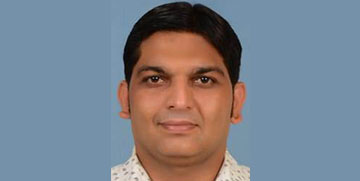 Prof Sumeet Kumar
Registrar & Director Admissions
Dr. S.P Jindal
Director Principal
LIST OF FACULTY
| | | | | |
| --- | --- | --- | --- | --- |
| Sr. No. | Name | Designation | Department | Photohraph |
| 1 | Dr. Manu | Principal | Chemistry | |
| 2 | Mr. Sumeet Kumar | Registrar | Computer | |
| 3 | Dr. Bhupinderjit Kaur | COD (Zoology) | Zoology | |
| 4 | Dr. Veerpal Kaur | Assistant Prof. | Zoology | |
| 5 | Dr. Dushyant Singh Rajput | COD (Forensic Sci) | Forensic Science | |
| 6 | Ms. Nidhi | Assistant Prof. | Forensic Science | |
| 7 | Mr. Krishan Kumar Sharma | Assistant Prof. | Forensic Science | |
| 8 | Dr. Aprajita Gupta | COD (Microbiology &MLS) | Microbiology & MLS | |
| 9 | Ms. Mannu Kumari | Assistant Prof. | Microbiology & MLS | |
| 10 | Ms. Sandeep Kaur | Assistant Prof. | Microbiology & MLT | |
| 11 | Ms. Anjali | Assistant Prof. | Microbiology & MLT | |
| 12 | Ms. Shivani Thakur | COD (Agriculture). | Agriculture | |
| 13 | Mr. Deepak Prajapati | Assistant Prof. | Agriculture | |
| 14 | Mr. Brajesh Kumar | Assistant Prof. | Agriculture | |
| 15 | Ms. Palampreet kaur | Assistant Prof. | Agriculture | |
| 16 | Dr Linconjitpal Singh | Assistant Prof. | Agriculture | |
| 17 | Ms.Anju Hatti | | Anesthesia & Operation Theatre | |
| 18 | Mr Aadil Rasheed | Assistant Prof. | Radio Medical Imaging Technology | |
| 19 | Ms. Nafeeda Rehman | Assistant Prof. | Radio Medical Imaging Technology | |
| 20 | Ms. Mehvish Mushtaq | Assistant Prof. | Cardiac Care Technology | |
| 21 | Ms. Shaista Mushtaq | Assistant Prof. | Anesthesia & Operation Theatre | |
| 22 | Ms. Yusrah Muzaffar | Assistant Prof. | Radio Medical Imaging Technology | |
| 23 | Ms. Geeta Kalia | Assistant Prof. | English | |
| 24 | Mr. Vikash Kumar | Assistant Prof. | Computer | |
| 25 | Ms. Prabhjot Kaur Sodhi | Assistant Prof. | Computer | |