Top Optometry Colleges in South India – Career in the paramedical field brings unmatched success, respect and prosperity. BSc Optometry is a professional course that can unlock doors for eligible candidates to pursue a prestigious career in the allied health sector. There're many BSc optometry colleges in south India that you can think of for your career.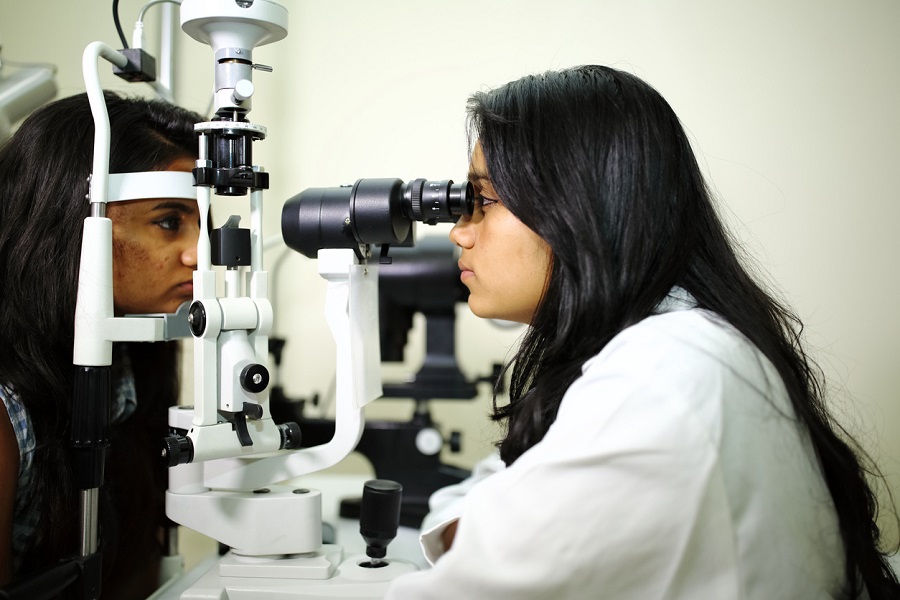 Optometry is associated with the treatment of vision-related complications. It includes the study patterns belonging to eyes, various structures, diagnose policies to treat them. It is the process of taking care of eye issues and other range of disorders. There is a massive demand for optometrists in the country and abroad. The vision care science allows professionals to help people and let them enjoy a beautiful world.
Highlights of the BSc Optometry Course
BSc Optometry or Bachelor of Science in Optometry is a 3-year professional course in the allied health science sector. The undergraduate education program follows the semester system of 6 months each.
After obtaining the required skills, you work as a primary healthcare practitioner of visual systems. Optometrists provide overwhelming vision and eye care solutions by eliminating concerns and complications.
Eligibility
Who is eligible? Well, any student who has passed 10+2 in the science stream with a minimum of 50% of total marks is fully eligible to take the course. Provided he/she must have learned Physics, Biology and Chemistry as compulsory subjects in the 12th standard.
Admission Process
In terms of admission, every college/university follows a different admission procedure for the BSc optometry course. Some of the popular methods include;
Entrance Examination-based Admission
Merit-based Admission
Counselling-based Admission
Career and Job Aspects
Qualified candidates become eligible to capture a huge scope for careers and jobs after acquiring a bachelor's degree. People need professional eye care solutions, including children, adults and older. You can get employment across various private and government-run hospitals, clinics, and other healthcare institutions.
Moreover, you can also take up any of the following job profiles:
Optometrist
Optician
Trainee Optometrist
Vision Consultant
Optometry Researcher
Private Practitioner
Vision Care Associate
Best Optometry Colleges in South India
South Indian states are farther than the rest of the Indian states in the education circuit. Provinces like Kerala, Tamilnadu, Karnataka and Andhra Pradesh etc. are well known for exceptional education systems and higher literacy rate.
In the zone of allied health science, these states represent a healthier scenario as well. One can find a number of paramedical institutions in the region to join and build a thoughtful career in the area of interest. Optometry is one of the eminent fields. There're many BSc optometry institutes in south India you can come across while seeking admission in the course. Here're the details.
Dolphin PG College of Science
Dolphin PG College of Science is an award-winning authority in the higher education domain. The college has attained an honorable status in the medical and paramedical sector since its inception in 2006.
Further, interested candidates can approach the institute to get hold of a quality learning atmosphere and holistic faculty. They get access to a wider spectrum of UG and PG education programs across medical and paramedical spaces. The BSc optometry course is designed with advanced learning modules and prospects to capture the latest trends in eye vision care.
Al Salama College of Optometry
Al Salama College is another prominent place where students come to learn innovative skills, knowledge and development. The college adheres to the advanced protocols to help candidates build the overall personality.
Besides delivering quality education facilities, Al Salama College ensures greater exposure for aspirants to be a qualified eye health practitioner. It also encompasses a wide range of infrastructural facilities to support your dream in optometry.
Anna Optometry College
Founded in 2006, the Tamilnadu-based paramedical college accumulates a massive experience in the education field. It offers multiple medical and paramedical courses to help students of diverse interests. Moreover, the affordable fee structure and professionally-trained faculty are some of the other charming highlights.
IIVM College of Optometry
Based in Coimbatore, Tamilnadu, IIVM is a team of compassionate individuals who endeavor to nurture students with unique study philosophies. It assists youngsters to carve their skills in optometry and build a successful career in orbit.
Little Flower Institute of Medical Science & Research Centre
LFIMS&RC came into existence in 2005. It is based in Kerala and accredited by Indian Nursing Council. It offers UG and PG course programs in the allied health science zone. BSc optometry is a specialized scheme you can adopt to acquire relevant knowledge and skills in vision care science.
Concussion
This is the listing of top BSc optometry colleges in south India. All institutes are worth considering, given the blend of quality facilities they carry for students. You will grab comprehensive support to make your dream a reality.