Top Operation Theater Colleges in Kerala – Your intentions are obvious. Having a career in the paramedical field is your topmost choice. Becoming a professional Operation Theater Technologist is a thoughtful decision. Where to start? Several BSc operation theater technology colleges in Kerala are ready to support your dream.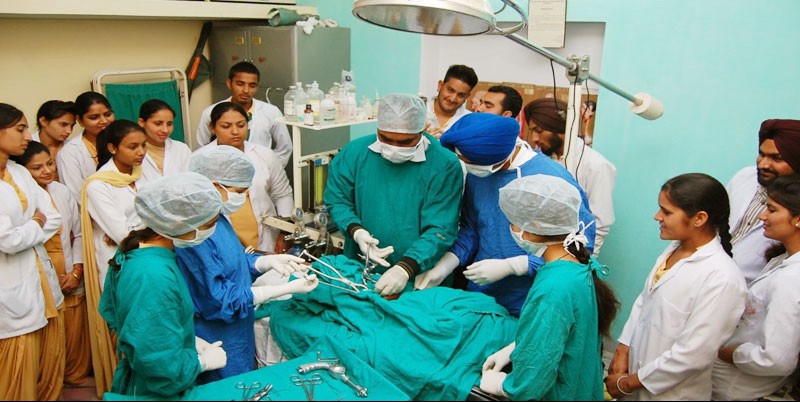 The field of operation theater technology continues to mesmerize aspirants due to impeccable growth and career opportunities. Among the other allied health science alternatives, OTT is gaining popularity amongst youngsters globally. Candidates learn comprehensive skills essential to succeed in the zone of operation theater and surgical.
What the BSc in OTT Course is All About?
Bachelor of Science in Operation Theater Technology or BSc in OTT, in short, is an undergraduate (UG) course of 3 years. The full-time course program is available for students having passed 12th standard in the science stream. Physics, Biology and Chemistry are counted as compulsory subjects for the course.
Further, interested candidates can get admission in the bachelor's degree course if they have obtained more than 50% marks in 10+2. They also need to appear in the entrance examination alongside the age being within 15 to 17 years. Some institutions exercise counselling or direct admissions as well.
During the BSc Operation Theater Technology course, a student comes to learn skills, intricacies and functions required to be handled in an operation theater. He/she also grabs knowledge concerning surgical equipment management, helping surgeons, nurses and anesthesiologists. After the course, a candidate becomes eligible to assist doctors and surgical procedures to ensure a successful operation/surgery.
Jobs and Career Prospects –
One can find remarkable career and growth opportunities after completing the BSc in operation theater technology course. There's a massive scarcity of qualified operation theater technicians across versatile fields of medicine like urology, Neurosurgery, General Surgery, Gynaecology, Plastic Surgery and more.
Some of the scintillating job profiles after the course emerge as follow:
OT Technician
Associate Consultant
Teacher and Lecturer
Lab Technician
Anesthesiology Consultant
Best BSc Operation Theater Colleges in Kerala
Kerala, the state in the lap of nature, is currently leading the nation's education industry impressively. It is enjoying the apex with the highest literacy rate throughout India. As per paramedical education services, Kerala also involves a brilliant atmosphere for students. A number of allied health science colleges are there in Kerala to produce qualified OTT professionals. Let's start navigating the list of some reputed gems:
Dolphin PG College of Science
Commenced functions in 2006, Dolphin PG College of Science is a top-notch alternative for quality-driven educational facilities. The award-winning medical institute endeavors to bring excellence through consistent efforts and dedication. The track record manifests a pleasant scenario to woo students from across the country.
Furthermore, Dolphin PG College of Science offers a broader spectrum of Diploma, Certificate, UG and PG course programs. Students can join the authority to capture an employment-driven BSc operation theater technology course. They learn advanced study patterns based on the trending industry needs.
Moreover, the college develops worthful infrastructural facilities alongside keeping the fee structure as pocket-friendly as possible. Candidates will get full career guidance and support from industry specialists.
Al Shifa College of Paramedical Science
Came into existence in 2000, Al Shifa College of Paramedical Science is a recognized brand in the education circuit. The team of qualified, experienced and well-educated faculty members is passionate about serving students with the best practices and modules in the course.
Additionally, the college is well-furnished with essential amenities to serve candidates with greater education services. You will carve skills to be a proficient operation theater technician under the strict guidance of professionals.
Westfort Institute of Paramedical Sciences
WIPS is associated with the Kerala University of Health Sciences. It is a pioneer identity working in the higher education field for years. The prime focus of the operation theater institute in Kerala is to produce professionals to cater to the medical needs of the nation.
KVM Institute of Paramedical Sciences
KVM Institute was constituted in 2011 to provide competency and dexterous to eligible aspirants. It aims to address the rapidly-changing healthcare needs of society through innovation, R&D and persistence. The BSc OTT course is designed as per the latest industry parameters.
Kerala University of Health Sciences
Doubtlessly, KUHS is a superlative medical institute established under the Kerala University of Health Sciences Act, 2010. It is globally known for delivering exceptional guidance and superb infrastructural facilities to students. The university provides a range of professional courses in medical and paramedical domains.
Conclusion
The paramedical science field widens scope rapidly to include extensive employment opportunities. Interested candidates can join the sector by adopting relevant skills and knowledge through a dedicated education program.
For this, one can come across many operation theater colleges in Kerala to develop potential in the respective circuit. Go forward and choose the best alternative to provide wings to your dreams.