Top Radiography Colleges in Punjab – Radiography has emerged as one of the most popular careers among science students. They look to sharpen their skills in the domain by opting for a professional degree or fully-fledged BSc in radiography. Today, we have put some best radiography colleges in Punjab to help you choose the top institute.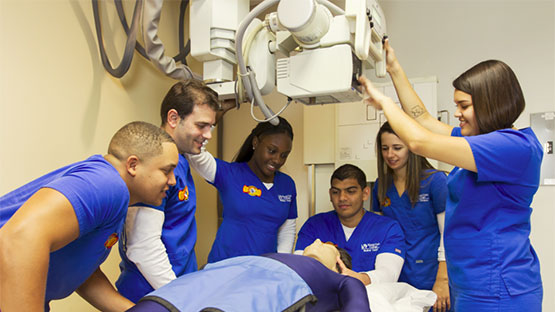 It is no secret that the medical wing provides immense career opportunities and job profiles. Especially in countries like India, where the situations have gone worse, given the ever-growing population sum. India lacks medical infrastructure and professional experts to curb challenging situations.
As far as the career of a radiologist or radiographer is concerned, it comes with quite a few responsibilities. As a radiographer, you will diagnose the ailment by taking images of patients' internal parts of the body. Some of the popular body-scanning technologies used today are CT Scan, X-Ray, Ultrasound and MRI etc.
Best Radiography Institutes in Punjab
Are you finding it tough to select the reputed college/university for BSc radiography course? Here's the help for you. This section will illustrate some of the prestigious educational institutes located in Punjab for a diverse spectrum of professional courses. You can pick any as per your accommodations. Let's dive in.
Dolphin PG College of Science & Agriculture
You find the Dolphin PG College at the apex for legitimate reasons. The college could be your final destination to pursue your BSc degree in radiography. It provides world-class education services since its inception in 2006.
Further, the professional college equips top-rated amenities for medical and science students. It has the proper infrastructure, experienced staff and other facilities to make your study as practical as possible.
Address: 18 Km, Chandigarh-Sirhind State Highway Road, 12A, PO Chunni Kalan, District Fatehgarh Sahib.
Guru Gobind Singh Medical College & Hospital
It was established in 1973 under the govt of Punjab. The Baba Farid University of Health Sciences governs the college for all rules and procedures. The MCI-recognized medical college provides full-time BSc course in radiography and various other medical programs.
In terms of other facilities,the college houses an Intensive Care Unit, Operation Theatres, Blood Bank, Emergency Services, and Laboratories etc.
Address: Sadiq Road, Kotakpura, GGS medical Hospital, Faridkot
Adesh University
It is managed by the Adesh Foundation and established in 2012. It concludes a wide range of medical and science courses such as BSc, diploma, M.D, M.S, MSc, B. Pharma, MBBS, and other graduate and postgraduate programs.
Moreover, Adesh University also configures excellent infrastructure and latest technologies to impart professional values to students.
Address: Bathinda Road Barnala, National Highway 64, Bathinda
Government Medical College, Amritsar
The Government Medical College is another respected brand in the medical education industry. Initially, it was founded in 1864 in Lahore as a Medical School and then shifted to Amritsar in 1920.
Students will get quality education under the professional guidance of qualified teachers, mentors and motivators. It lets you craft sharp skills to pursue an honourable career as a radiologist.
Address: Medical Enclave, Amritsar
Christian Medical College
The next on the list is Christian Medical College that is also well-known for incredible track record and success stories. Since its inauguration in 1999, thousands of students have been shaped their career in the medical field.
Candidates can join the college to carry on with programs like BSc radiography, M.D., MSc, P.G.D., ad lots of other professional courses. They unlock hidden potential and skills to ensure a prosperous career ahead.
Address: Brown Road, CMC Campus, Ludhiana
Sri Guru Ram Das University of Health Sciences
Well, it is another reputed and registered radiography college in Punjab. The institute is well-stuffed with advanced facilities, professional teachers, laboratories and other services.
You will have an extensive range of full-time programs to choose from. Besides BSc radiography, it provides education for MBBS, MSc, Ph.D., M.D., B. Pharma, and lots of others.
Frequently Asked Questions
What do radiographers do at work?
Radiographers work with patients and x-beam gear to deliver clinical x-beam pictures called radiographs. The radiographs are utilized to acquire data about a patient's condition through understanding by a specialist taught in x-beam determination called a radiologist.
Do I need to finish all the necessary general schooling courses prior to applying to the program?
No. For an understudy, the base number of credit hours needed before an application can be considered is 11 semester hours. The base evaluation point normal is 2.5 on a 4.0 scale.
Do all understudies that meet the base prerequisites get a meeting?
Contingent upon the quantity of candidates, the entrance advisory boards can choose for meet a gathering of the best-qualified candidates dependent on their instructive capabilities.
Wrapping Up
Indian students are always curious to shape their career in the medical field. It is quite a thoughtful decision to join the demanding corridor in our country. You will have whopping career growth space in the medical radiography and imaging technology.
Several radiography colleges in Punjab are operating to help aspiring candidates achieve their dream. Hopefully, the list will suggest you some best institutes that you can proceed with.