BSc Anesthesia Technology Colleges in West Bengal – Anesthesia technology is a diverse field under the allied healthcare segment. It covers greater career and job prospects for skillful and eligible candidates. Therefore, the blog post stresses some proficient BSc anesthesia technology colleges in West Bengal that are delivering professional UG and PG programs in the respective area.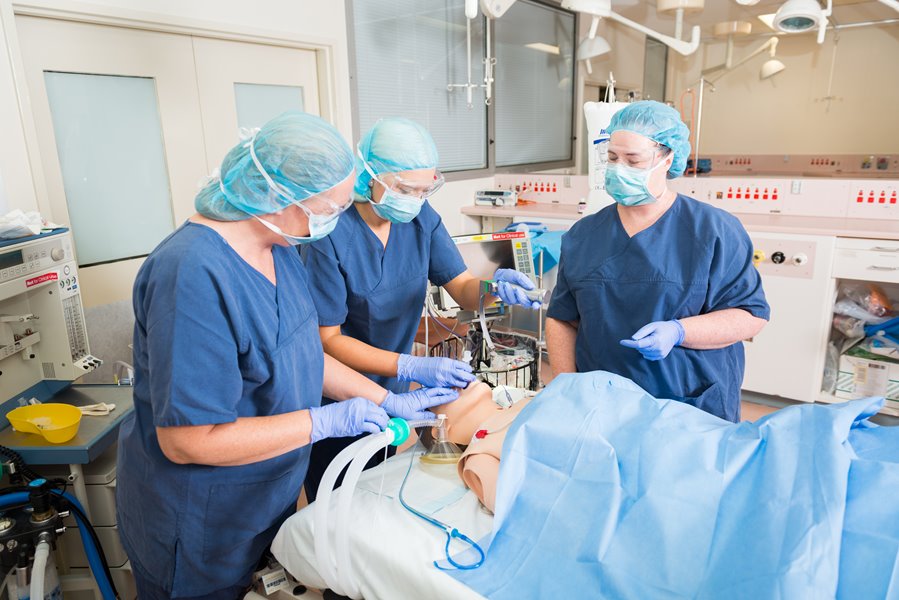 Are you interested in adopting a career as Anesthesia Technologist? Developing required skills, knowledge and experience is vital for this purpose. Consequently, aspirants need to join a reputed institution to carve capabilities and acknowledgment to be successful and certified anesthesia technology professionals.
BSc Anesthesia Technology Course Details
BSc in anesthesia technology is a committed course of 3-year duration. The undergraduate program accepts admissions from candidates who have passed their 10+2 in the science stream. They also must have learned Chemistry, Biology, and Physics as compulsory subjects.
There're several bachelor-degree courses to get expertise in anesthesia technology:
BSc Anesthesia Technology
BSc Anesthesia and Operation Theatre Techniques
BSc Operation Theatre & Anesthesia Technology
BSc Medical Technology
The following are the main subjects that candidates learn during the course:
Anatomy and Physiology
Anesthetic Procedures
Microbiology
Regional Anesthesia
Patient Care and Monitoring
Anesthetic Equipment
Anesthesia and Surgical Specialties
Pharmacology
Further, the BSc anesthesia technology course makes students eligible for performing a range of procedures in the healthcare sector. It studs aspirants with versatile qualifications with anesthetic and non-anesthetic medicines. Trainers learn to prepare aesthesia trolleys, gas system operations, and other surgical equipment. They also learn to assist doctors during operations/surgeries in ICUs and emergency wards etc.
An anesthesia technologist is an allied healthcare specialist. Their prime role is to prepare and administer an accurate dose of anesthesia medicine. They also manage and operate anesthesia equipment in a way required.
Career Scope & Job Prospects
In terms of career opportunities, eligible candidates snatch massive jobs and career profiles in the respective field. Anesthesiologists can get employed in government/private hospitals, healthcare centers, specialty hospitals, and medical universities/colleges.
Similarly, students can also work on the following job designations:
Anesthesia Technologist
Anesthesiologist Assistant
Surgeon
Associate Consultant
Medical Consultant
Anesthesia Technician
Best BSc Anesthesia Technology Colleges in West Bengal 2021
This might be the area of your prime interest. It will describe some top-ranked BSc anesthesia technology institutions based in West Bengal. The eastern state encompasses an appreciable educational environment for medical and other students.
During the recent era, West Bengal has emerged as an education hub of India with the introduction of well-versed educational places. For the anesthesia technology course, the state has the following brands:
Dolphin PG College of Science
It is a pioneer brand in the Indian medical education corridor. Founded in 2006, Dolphin PG College of Science has brought a revolution in the allied healthcare sector by delivering innovative learning skills and career-oriented programs.
Students from across the nation can proceed to join UG and PG courses in anesthesia technology. Qualified professors, teachers, and mentors provide tactics based on their industry experience.
You will have a splendid learning realm to develop essential skills to get succeeded in the domain. The latest study modules, creativeness, job-oriented workshops, and affordable fee policy are some other qualities of Dolphin PG College of Science.
Institute of Postgraduate Medical Education and Research
IPGME&R was inaugurated in 1957 in Kolkata. It also offers a distinctive range of professional courses under UG and PG programs. The BSc anesthesia technology course is particularly designed as per the latest industry trends and job prospects.
Apart from that, the reputed college in West Bengal also bestows students with wonderful amenities such as Library, Canteen, Sports, Conference Hall, Auditorium, Placement Cell and others. Fee exemptions are available for students with weaker financial backgrounds.
Nil Ratan Sarkar Medical College and Hospital
Situated in Kolkata, NRSMCH is one of the oldest BSc anesthesia technology colleges in West Bengal. It was established years back in 1873 and affiliated with the West Bengal University of Health Sciences.
The college is delivering quality education through 19 courses across 3 streams as Paramedical, Medical and Dental etc. Students will have an exceptional atmosphere to fuel up their skills and take command over the concept.
North Bengal Medical College
North Bengal Medical College provides innovative and employment-oriented medical courses to its students. Based in Darjeeling, the medical institution was formed in 1968 and affiliated with West Bengal University of Health Sciences.
Further, aspirants will have access to various additional amenities like Hostel Facilities, Computer Labs, Medical Facilities, Gym, Library, Sports, Auditorium, and Canteen etc.
​
Conclusion
BSc anesthesia technology course is a key to unlock doors to exceptional employment opportunities. Candidates can opt for the undergraduate program to build a respectful career in the ever-growing healthcare wing.
Tons of BSc anesthesia technology colleges in West Bengal offer comprehensive UG and PG programs to enthusiasts. It is the right time to associate with one to get hold of vast career prospects and success.